We are thrilled to announce we will be heading to this year's Audio Engineering Society (AES) Convention in New York to host our very first live panel discussion, Is Remote Collaboration the Future of Music Production?
Our panel will take place at Jacob Javits Center on Wednesday 19 October and will be moderated by Abbey Road Studios' head of audio products, Mirek Stiles. We are introducing you to each of our panelists in the lead-up to the event and we continue proceedings with Grammy-winning mix/recording engineer Ariel Borjuow.
About Ariel
Since 1998, Ariel Borujow has pretty much been sitting behind an audio console. The passion he had for sound the day he walked into his first session has grown naturally throughout his career. He credits his early studio experiences with many lessons. Creating the right dynamic between the engineer and the client along with their art is something he understood very early on in his career. Luckily for him his early days allowed him to work on some of the best music of its time.
His career has led him down many different paths. He has both won and been nominated for Grammy Awards, as well as worked with some of the best musicians, artists and music producers on the planet. His involvement with the audio extends well beyond the studio. Currently, he is co-chair for the Producers and Engineer wing at The Recording Academy New York as well as an official advisor for the Department of Sound in Sacramento California (https://www.deptofsound.org).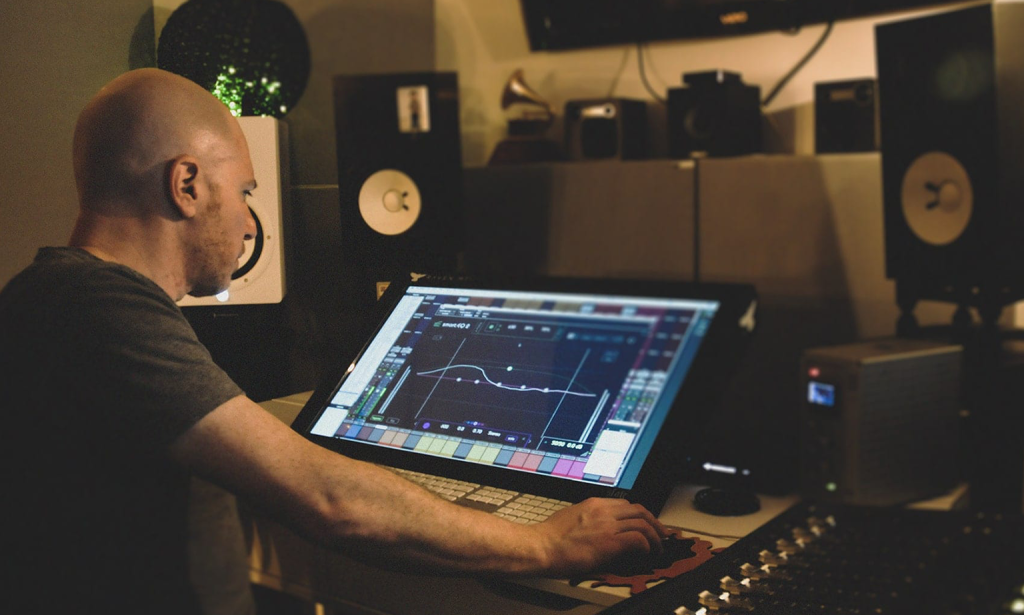 If he is not spending his time mixing, he enjoys discussing his work at speaking engagements both home and abroad. He has spoken on panels at SXSW, The Recording Academy, offered master classes throughout France and works with upcoming producers and engineers offering private mentoring. Outside of the recording studio he has spent many years mixing live music for national live television broadcasting. Working closely with clients to achieve the balance they are looking for on their music is his art. He understands the delicate relationship between production and mixing and always focuses on bringing out the most complementary dynamic.
Select credits include: T.I., Imagine Dragons, Justin Martin, Puffy, Lucius, Chromeo. The Chainsmokers, Bebe Rexha, Chiddy Bang, CID, Madonna, Mac Miller & Andrea Bocelli.
We recently spoke to Ariel and songwriter/producer Nick Zinnanti (Patent Pending, Ryan Clarke) to delve into their process for remotely collaborating on the mix for STOMP YOUR BOOTS, the debut single from the genre-defying duo YA'BOYZ.
What will we be discussing?
As part of the panel, we'll be exploring the long-lasting effects that remote collaboration will have on our creative habits and working style, our panel will discuss topics such as:
What does this new remote way of working mean for our human relationships?
How can you create a 'vibe in a room' if the participants are never in the same physical space?
Can you build an intimate connection between an artist and a songwriter if they never meet?
Is creativity affected or enabled through remote technology?
Founded in the USA in 1948, the Audio Engineering Society is the only professional society devoted exclusively to audio technology, bringing together audio engineers, creative artists, scientists and students from around the world.
Head to the link here to register your place and be a part of the conversation.