The focal point of Abbey Road's mastering rooms is the EMI TG12410 console. The first solid-state consoles to be designed within EMI, they were custom built by EMI's research department in Hayes, Middlesex, beginning in the late '60s.
Improvements on the consoles have never stopped thanks to the legendary Abbey Road technical engineers. A recent project, which was developed entirely in-house, ensured the consoles are a mainstay in the mastering rooms for many more years to come. In the latest versions of the TG consoles, the technical engineers have essentially modularised the original TG module. By doing this, you can allow new, modern-day equipment to be placed between the TG modules. This also allows the mastering engineer to bypass and monitor any effect in their chain.

The TG brings something special to any master — heard on records including Pink Floyd's The Dark Side of the Moon, Nirvana's In Utero, Radiohead's OK Computer and Ed Sheeran's +.

In 2018, Abbey Road Studios teamed up with Waves Audio and developed the TG Mastering Chain plugin – a modular mastering chain plugin modeled after the Transfer Console. You can use the Abbey Road TG Mastering Chain to create custom processing chains with a flexible flow and the TG magic on the master bus, or on individual tracks/groups in a mixing session.
And in the same year, Chandler Limited Founder/Chief Designer, Wade Goeke, conceived the TG Microphone. A solid-state, large diaphragm condenser microphone, featuring the legendary TG sound, a Dual Tone voicing system and NAB/IEC Tape Equalizer facility, repurposed from historic EMI TG12410 consoles and re-engineered for microphone duties.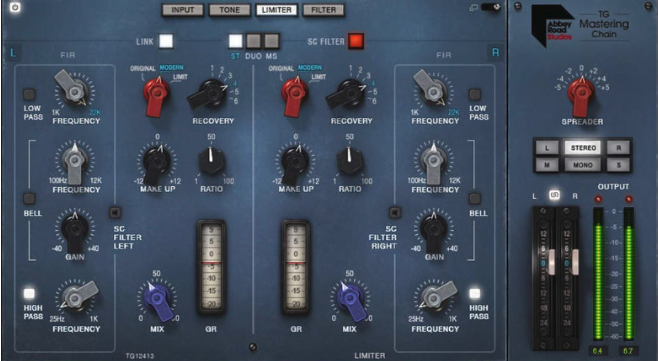 The TG12410 is one of Abbey Road's finest pieces of equipment, and through the collaborative work with the likes of Waves Audio and Chandler Limited, the legacy of the consoles is being kept alive for the next generation of music makers to utilize and enjoy. In our next installment of The Gear Behind Abbey Road Studios, we'll be diving into the Neumann VMS-80 cutting lathe.