Emerging artist, producer and content creator Amber Ryann & producer and multi-instrumentalist Zach Golden tell their story of developing Amber's sound remotely during the pandemic.
Could you give us an introduction to yourselves and your history of working together?
Amber: My name is Amber Ryann. I'm an independent artist based out of Pasadena, California. I've been working with Zach ever since 2020. I'd say that's when our collaborative process really kicked off.

Zach: My names Zach Golden. I'm a producer, for the most part, that's my main focus. I got introduced to Amber through our management MajorStage and we met in person once before the pandemic hit and got into the studio together and just vibed.

After that, obviously, the pandemic hit and since no one was traveling, we hopped on Zoom and used LISTENTO and started working on everything from there.
So working remotely was something you had to do from the get-go?
Amber: Exactly. We had worked in person once, just off of the coincidence of him being in my town. I actually don't think we really got much done. It was really cool. Like the vibe was always there. I've always loved Zach and his process. He's an amazing producer. But yeah, for the most part, it's been remote.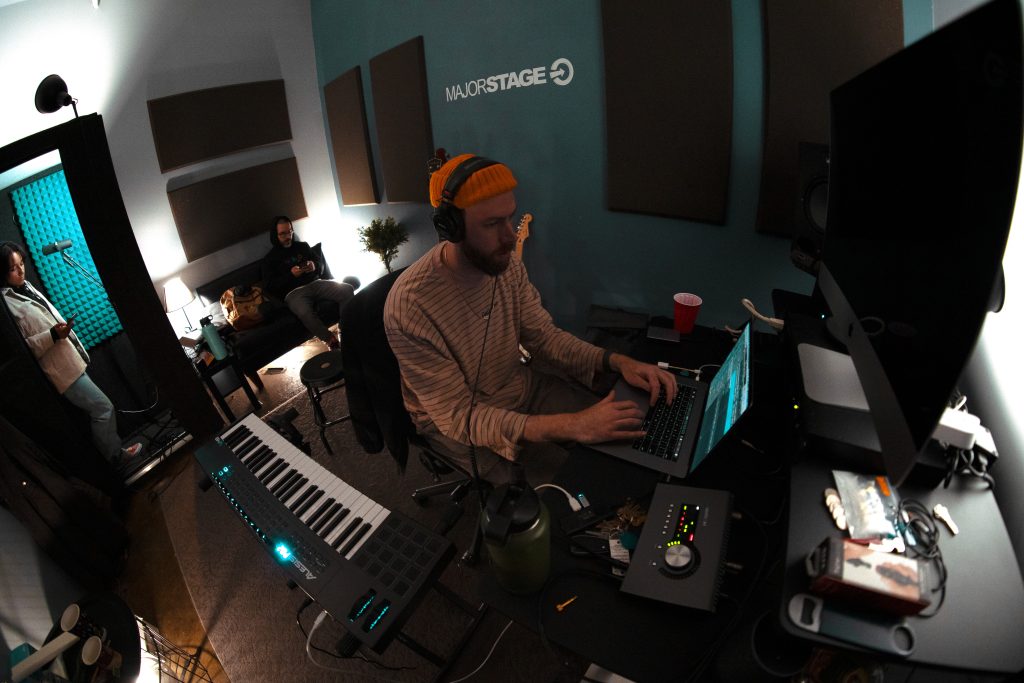 Awesome! So you recently released your latest single 'Liquid Courage'. Talk to us about the track. What are some lyrical themes/ messages in the song and what influenced the instrumental?
Amber: For sure, so the lyrics of the song centralize around when you're out and you've had too much to drink. You kind of let go of your inhibitions and do some wild things. That's like the general theme of the track.

It's funny, I always like talking about the story of making the track, because when Zach and I actually made the track, for me it felt like a 'dad-rock anthem'! The production was completely different. We've gone through the production of the track four to five different times and landed on the released version, which is in a very different place.
What was the setup and process for these remote sessions?
Zach: The one thing we've left out so far is that Amber has an album that's going to be coming out and that process was done in person for one week, about 9 or 10 months ago. We worked on that with a writer and producer that goes by the name Sol and another producer that goes by the name Xmane. They're based in LA so they all flew out to New York, we all got together for a week and cooked up a whole bunch of music.

Like Amber said, this track was originally said, this track was originally like a dad rock, trappy beat that almost went to the graveyard and never made it past that point. After that, Amber and I just worked on everything through Zoom and LISTENTO. So I have all the sessions, access to all the stems and everything and I have the LISTENTO plugin opened up on my end. She's there the whole time, giving directions on what she wants.

We were able to experiment with and come up with a tonne of ideas and build them to the finish line, even if we didn't use those tracks in the end. That's the dope thing about working with Amber really is that I don't I've worked with another artist like her that's so focused on making sure everything's right, that she's willing to disconnect from the record to make sure that it's the right thing. She's not like "okay, well, we're done with the record, so let's put it out". It's more like, is this the right feeling? Is this everything that I need it to be?
How much of the process was done in this way?
Amber: I mean, we re-worked the entire album remotely. That's an interesting situation within itself. If we didn't have the capabilities to collaborate remotely in this way, I don't think we'd be able to create the way we do in general.
"Everything in terms of re-working it, re-writing certain parts, re-producing certain elements, passing ideas back and forth. All of that was done over Zoom and Audiomovers."
Amber Ryann
Zach: There have been a few singles that have been put out where the entire process all the way through was all done remote.
Do you remember what tracks they were?
Amber: The 'A Sign of The Times' (Collection), 'In My Mind' and 'SHOW YOU' were all done completely remote using Audiomovers.
Do you feel that this workflow has allowed you to experiment creatively in the way you would've liked to?
Zach: I would say so for me. Since Amber and I have started really creating together in this digital world, I don't think there was anything that was lost in translation. Like obviously when you're in person things are super immediate. But there wasn't like a loss of creative potential at all.
Amber, as someone who is quite heavily involved in various aspects of the creative process, have you continued to use LISTENTO in your professional career? If so, how?
Amber: Yeah, I've used it in several different ways, actually. Even with my music videos and doing video scores. I'll always send a link out and be like "yo, can you listen to this and watch it with me?" I actually don't do any sort of screen sharing without Audiomovers at all, whatsoever.

Last year, I was scoring a film and I had to have a meeting and show them the score I made alongside the film and I used Audiomovers to do that as well. So yeah, I've definitely used it across the board.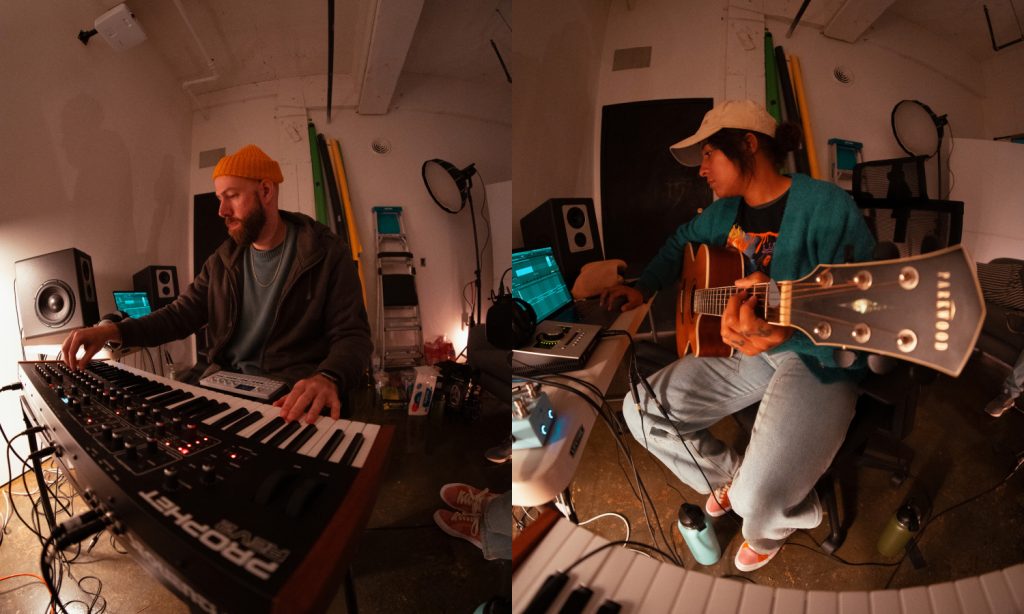 That's really interesting! You mentioned that you have a full album coming soon, do you have any more plans moving forward?
Amber: Yeah, so we'll be dropping the full album later this fall. I've also got a show coming up that I will have played by the time this interview goes live! I'll be playing at The Peppermint Club in LA on July 16th. So I'm super excited about that as I'm going to be playing a lot of new songs for the first time! Zach actually wrote pretty much all of the arrangements for the live performance as well, which is a pretty big deal. So I'm very excited!
Finally, where can people go to check out 'Liquid Courage'?
Amber: Spotify for sure. I'm a big Spotify fan! All of my music is on there. You can also check out the music video on YouTube, which I was able to direct. So I'd love for people to check it out.
Have a watch of Amber's self-directed music video for 'Liquid Courage' below or visit Spotify to hear the final products from their remote sessions.