LISTENTO has become an increasingly important tool in education and remote learning, providing students and teachers with the ability to share high-quality audio in real-time, regardless of their geographic location. From music education to language learning to virtual conferences and presentations, Audiomovers has a wide range of applications in the educational space.
While LISTENTO has become an audio industry standard and is being used by the world's top producers, mixers and engineers every day, it is also increasingly being used in the field of education to facilitate remote learning and collaboration.
Music schools like Berklee, The Abbey Road Institute and The New York School of Music all rely on Audiomovers as the go-to standard for sharing high-resolution audio in virtual classrooms and remote collaboration.
LISTENTO allows students and educators to share high-quality audio in real-time, regardless of their geographic location. Students and educators can collaborate on music projects, podcast recordings, and other audio-based assignments without the need for expensive or specialized equipment.
Retailing at $16.67 per month, billed annually at $200 per year, with an added 15% discount of education institutions, making it an affordable and accessible solution for educators and students at all levels of education, and transforming the way students and educators work together to make remote learning more effective, engaging, and enjoyable.
In a recent interview with Mix Online, Audiomovers' Head of Product Igor Maxymenko shared his thoughts on how Audiomovers is revolutionizing audio in educational spaces.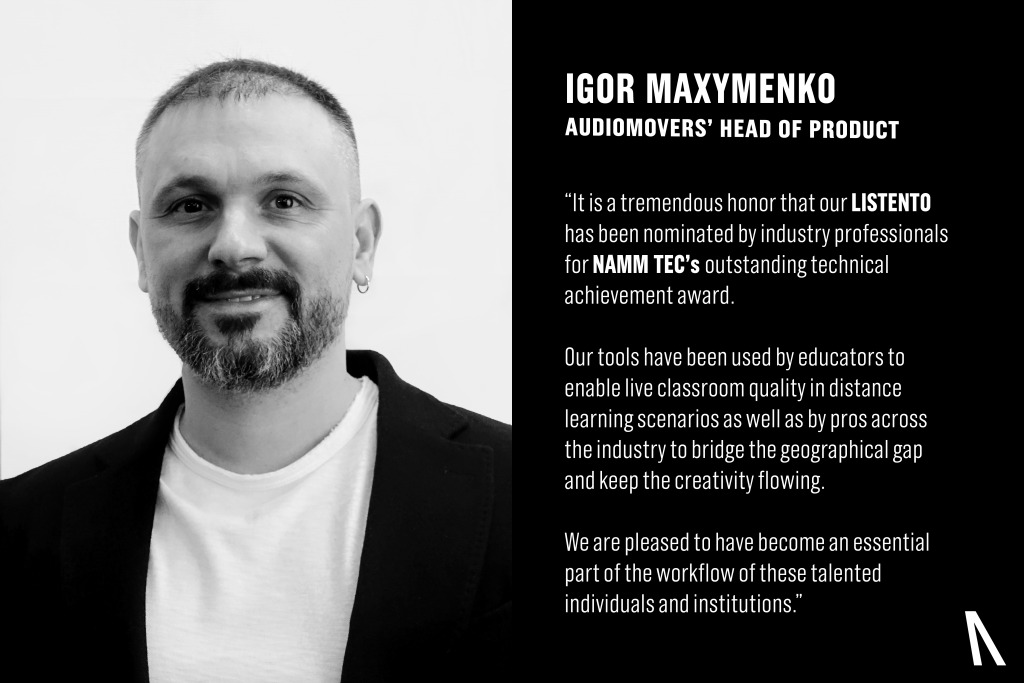 This year LISTENTO Standard Plus has been selected as a finalist for the 28th Annual NAMM Technical Excellence & Creativity (TEC) Awards in the category of Audio Education Technology.
Presented at The NAMM Show in April in Anaheim, California, the NAMM TEC Awards recognize the most outstanding products of the pro audio and sound recording industry, and the teams behind them. Audiomovers couldn't be more pleased to have received this nomination.
The Audio Education Technology category includes any books, programs, software, hardware systems and devices that are intended to promote knowledge of audio and musical topics. Whether it's being used for remote guitar lessons or teaching an entire class of music students, we're thrilled to see such a large contingent of LISTENTO Standard Plus users utilizing LISTENTO for audio educational purposes.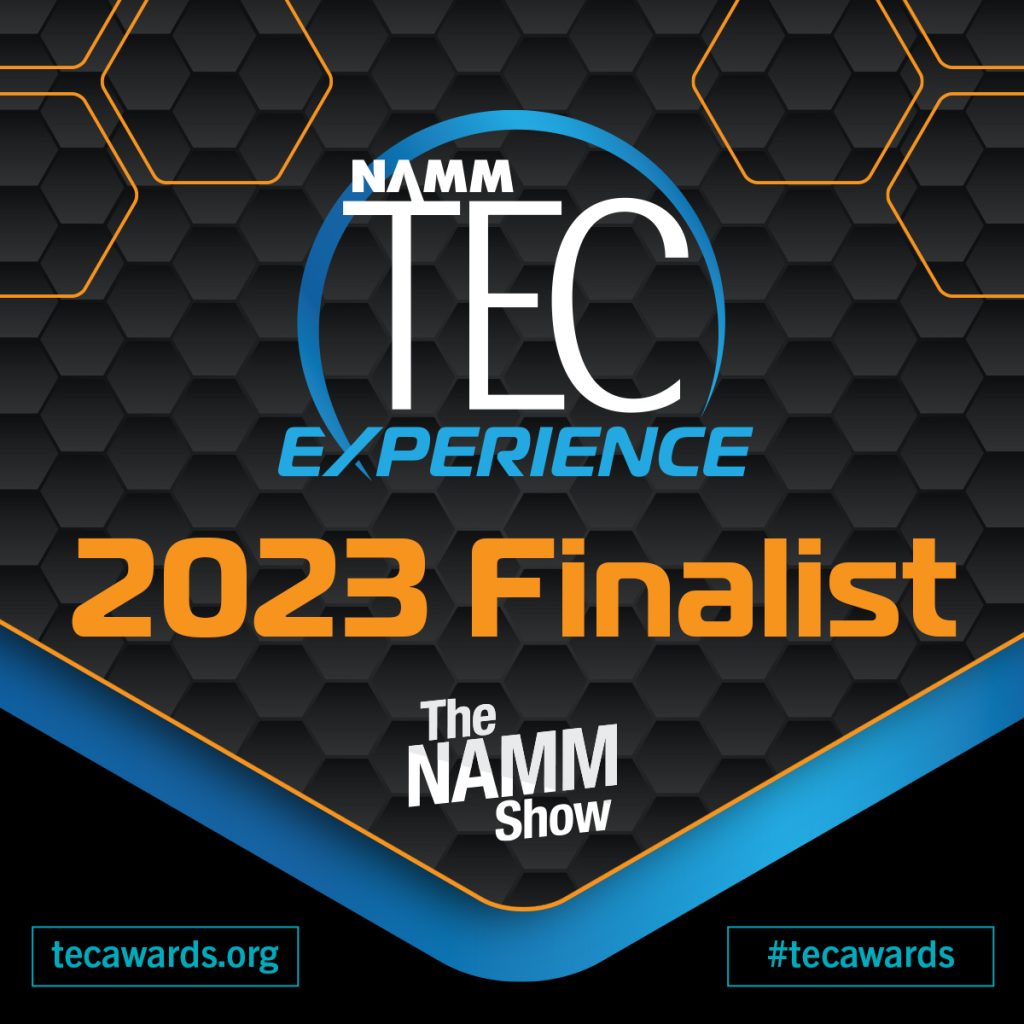 How LISTENTO supports Education
Remote Music Lessons
LISTENTO can be used to facilitate remote music lessons or rehearsals. Students and teachers can collaborate in real-time, sharing high-quality audio with low latency, allowing for a more engaging and immersive experience, as students can listen to their playing and the music of their peers in real time.
Additionally, LISTENTO's ability to stream high-quality audio over the internet ensures that students receive a consistent and accurate representation of their playing, regardless of their physical location.
Educator and lead guitarist of heavy metal quintet Ice Nine Kills, Dan Sugarman explains how he uses the software to run virtual guitar lessons:
"Not being forced to only teach in your area was a luxury that Skype and Zoom somewhat afforded. However, the kicker with them was that there were always audio quality issues. For instance, you'd be trying to explain a really intense arpeggio idea, let's say, but your mic is picking up sounds from around your room – and that's just not helpful to hear during such a detailed type of lesson."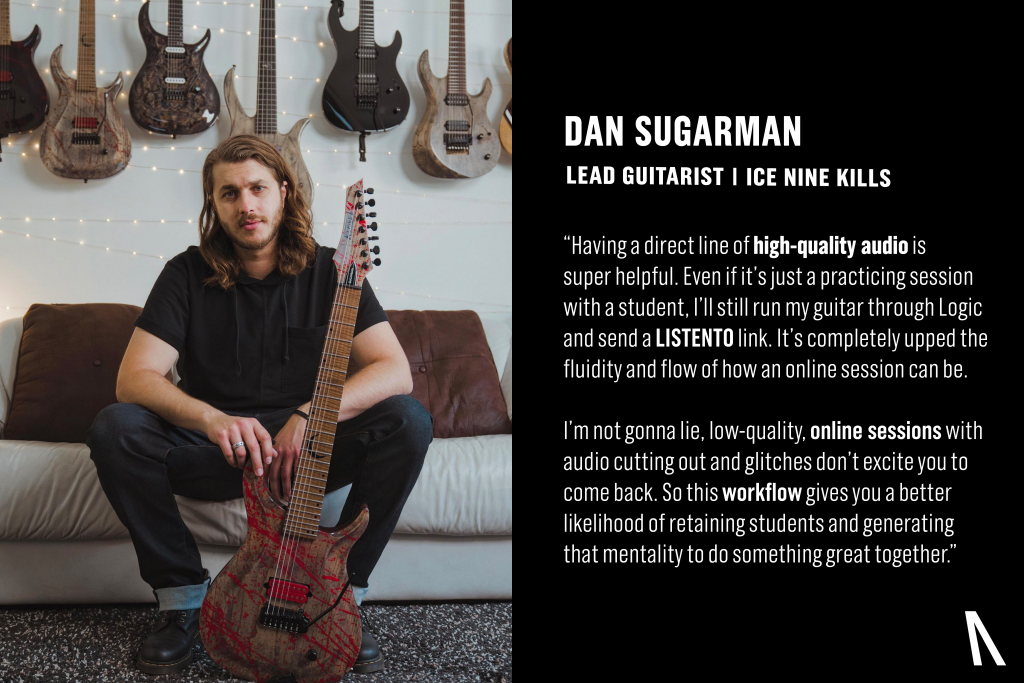 Virtual Conferences and Presentations
LISTENTO is also used to facilitate virtual conferences and presentations, allowing speakers to share high-quality audio with their audience, creating a seamless and engaging experience for the audience.
LISTENTO facilitates Q&A sessions, allowing audience members to ask questions in real-time and receive high-quality audio responses.
Podcasting and Audio Storytelling
LISTENTO is being used to facilitate remote podcasting and audio storytelling projects. Students can record and share high-quality audio files with their classmates and teachers, allowing for collaborative and creative projects. This helps students develop essential skills such as audio editing, scriptwriting, and storytelling, which are valuable in various fields.
Remote Audio Production & Sound Design
LISTENTO is also used in education for remote audio production and sound design. Students use Audiomovers to collaborate on audio projects, allowing them to work together in real-time, even in different locations.