In today's fast-paced world, recording audio remotely is often preferable to doing so in-person. However, while most people rely on a DAW to record, edit and process audio on their computers, this doesn't allow them to collaboratively stream and receive high quality audio in real-time.
LISTENTO creates a remote streaming and recording experience that reflects many of the benefits of the in-person studio experience. Turning your DAW into an online recording studio and allowing you to stream lossless audio with as low as 0.1 latency is now a reality.
A remote recording tool that reflects many of the benefits of an in-person recording studio experience
LISTENTO supports lossless multichannel audio, provides up to 7.1.4 surround sound, and allows users to adjust latency and bit rate to their preferences.
Streaming quality: Transmit up to 32 bit PCM audio uncompressed (as well as lower bitrate PCM and AAC codecs)
Plugin formats: Stream audio from VST / AU / AAX plug-in
Anytime, anywhere: Record and receive via web browser / plug-in / phone app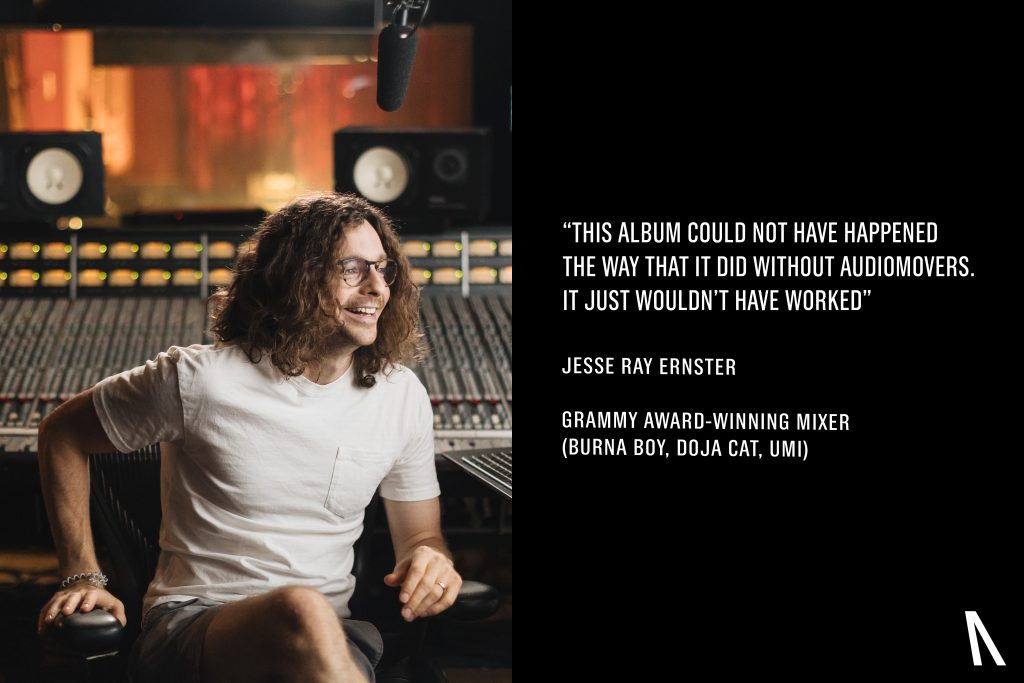 Benefits of using your DAW as a remote recording studio
There are many advantages to using your DAW as an online recording studio, including:
Collaborate no matter where your collaborators are – As long as they have a stable internet connection, with LISTENTO you're able to stream HQ audio and easily collaborate with others, regardless of where they are.
Record multiple people in multiple places – By relying on Audiomovers' remote audio recording tools, it is possible to record remotely and collaborate with multiple people simultaneously by using multiple instances of the receiver plugin.
Enjoy greater scheduling flexibility – LISTENTO facilitates high quality remote recording experiences and breaks away from the need for in-person studio sessions. Allowing for greater scheduling flexibility and enhanced freedom when choosing collaborators.
Save costs – While you'll need to invest in equipment and software, you'll ultimately save money on studio hire costs by utilising LISTENTO and using your DAW as a remote recording studio instead.
Who's using it?
Major recording studios and Pro Engineers – working alone or
Mixing, mastering and recording/tracking engineers
Producers/writers and songwriters
Music industry pros, such as A&Rs, managers, executive producers and session musicians
Individual educators and instrument tutors
Gaming studios, broadcast, film and schools
What is the best online recording studio setup?
The best online recording studio setup should be able to replicate what makes a real recording studio so special. In our experience, the ability to get feedback in real-time ranks high among the factors.
By using the LISTENTO plugin you can stream high-quality audio to a web browser, the LISTENTO mobile app, or directly to another DAW with the LISTENTO Receiver plugin (download it here) so you can collaborate with others in real time.
Is there a recording studio app?
LISTENTO is available as a mobile app for iOS and Android, and has a desktop app option, enabling you to transmit audio in real time from your desktop to your mobile device.
LISTENTO comes in both audio plugin and standalone app versions.
It's designed to allow you to stream audio from any DAW to:
a web browser (by copying and pasting a link)
The LISTENTO iPhone or Android app
LISTENTO allows for real-time streaming of several lossless and compressed formats.
LISTENTO RECEIVER is a plug-in that allows receiving and recording the incoming audio stream from a remote LISTENTO plug-in.
Understand the LISTENTO Ecosystem